Armando and the little dog Pimpa; the metalworker Cipputi; the daily life of Ugo and Luisa. The exhibition ALTAN, Cipputi and Pimpa. The world as it is… and as it should be, promoted by Pistoia Musei and Fondazione Caript and hosted in Pistoia in the spaces of Palazzo Buontalenti from 25 March to 30 July 2023, is dedicated to the cartoon characters that the public has loved for over fifty years.
With this exhibition, curated by Luca Raffaelli in collaboration with Kika Altan, Pistoia Musei has chosen to pay tribute to the great artist and cartoonist Francesco Tullio Altan (Treviso, 1942). A few months before his eightieth birthday, the museum is hosting a spectacular, varied, and entertaining exhibition, and one that might inspire us to think about the choices that await us if we truly want to live in a more humane and respectful society.
With a wealth of original drawings and some new ones, the exhibition has also created play spaces for children, and Altan's characters and animals reproduced in coloured foam by the sculptor Pietro Perotti.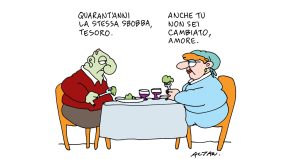 The first section of the exhibition, titled The world as it is, displays the cartoons featuring the worker Cipputi and his alter ego Italo, the couple Ugo and Luisa, Trino, Colombo and Ada and other famous characters by Altan.
In the language of satire, this overview also calls into question historical names from Italian politics, such as Andreotti, Craxi and Bossi.
In the second part, The world as it should be, the comics particularly loved by children are exhibited: Pimpa and Kamillo Kromo, along with other previously unseen drawings and comics by Altan.
The last rooms host Pimpa's house rebuilt in a child's size, where younger visitors can admire the lively furnishings and have the chance to play and colour. The exhibition closes with a video room and cartoons of Pimpa.
The exhibition is organized by Pistoia Musei and Fondazione Caript with the support of Intesa Sanpaolo and Conad Nord Ovest, in partnership with Quipos, Coconino Press-Fandango and Franco Cosimo Panini Editore, media partner la Repubblica, with the collaboration of Lucca Comics & Games.
Info
Photo credit: Altan/Quipos