From 26th to 28th May, the Pistoia Dialogues festival is taking place once again. This contemporary anthropological festival – its 14th edition – has as its main theme: Humans and others. We are nature.
How does society see the environment and its relation with non-humans? Animals and plants can have their own rights? What is the responsability of human beings towards the planet's other inhabitants? In the near future, which will be the battles to be fought for? What must we do to ensure that we leave a livable planet for future generations? Researchers and intellectuals will discuss these subjects which are at the heart of contemporary life.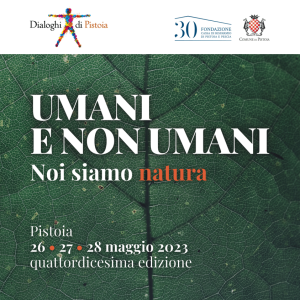 As a result of the climate and energy crisis, the difference between nature and culture is being questioned. The interconnection between man and other living creatures which inhabit planet Earth is nowadays being discussed. So the environment is no longer a sick person to be looked after but rather, it is the product of an interweaving of relationships which can help us to get better and be healed, just as anthropology has taught us.
We are the Environment, we are Nature, we are Culture.
Info
Dialoghi di Pistoia
turismo.pistoia@comune.pistoia.it
+ 39 0573 21622
PHOTO CREDIT: LAURA PIETRA