Photo Credit: Comune di San Marcello Piteglio
routes /
In the mountains
And so we went outdoors to see the stars again
A trip to San Marcello Piteglio, from the suspension bridge to the astronomical observatory
San Marcello Piteglio
routes
In the mountains
3
6 km
An itinerary to discover the Pistoia Mountains up to Pian de' Termini, 1.000 metres above sea level.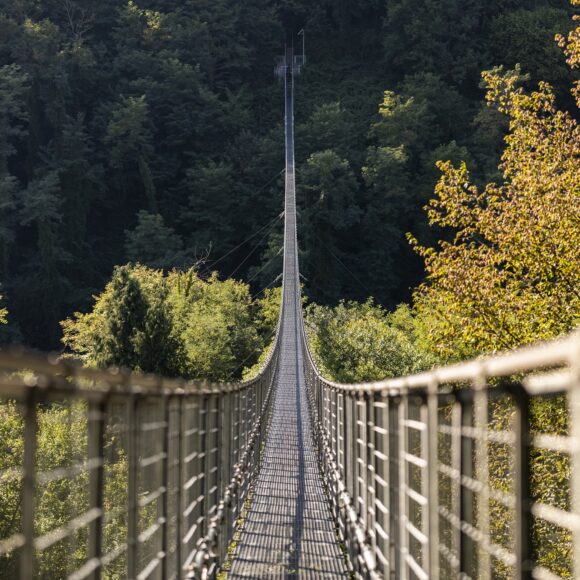 Ferriere Suspension Bridge
TAPPA 1
Ferriere Suspension Bridge
The Ferriere Suspension Bridge, built in 1923, is made up of a pedestrian gangway with four steel cables, 227 metres long and 36 metres high. This hanging bridge joins the two sides of the Lima River and, in the past, Popiglio's labourers who worked in the metallurgic factories on the opposite side of the mountains saved themselves the trouble of travelling six kilometres every day by crossing over it. Nowadays you can cross the bridge from one side to the other and can enjoy a truly breathtaking panorama!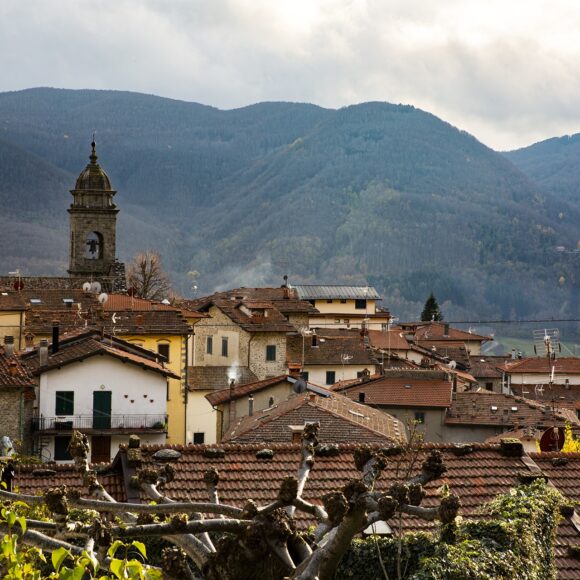 TAPPA 2
Gavinana
Gavinana is a delightful medieval hamlet, a district of the town of San Marcello Piteglio. We first arrive in the town square with the equestrian statue of Francesco Ferrucci in its centre, made to commemorate the historical battle of 1530. The wonderful church of Pieve di Santa Maria Assunta, is well worth a visit: it is a 11th-century Romanesque building with an extremely precious organ inside. This historic organ is one of the largest in Italy with its 2.063 pipes! At Gavinana you can also visit the Museo naturalistico archeologico dell'Appennino Pistoiese which reconstructs the history of man in these areas and has, on exhibition, many prehistoric findings of the North-Western Apennines, among which a skeleton of a bear going back to cavemen times.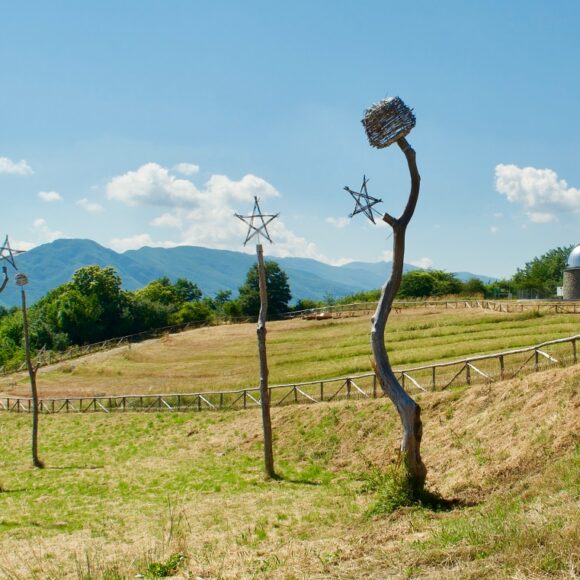 Astronomical Observatory of the Pistoia Mountains
TAPPA 3
Astronomical Observatory of the Pistoia Mountains
The Astronomical Observatory of the Pistoia Mountains was built in 1991 and it is looked after by a group of amateur astronomers, from here we can scrutinize the stars thanks to two 5-metre-wide domes, which rotate at 360°, and to two 40 and 60 centimetres wide telescopes. Due to its highly advanced, technological instruments, the Observatory has been able to discover many new asteroids and meteors p