Discover /
Skiing areas
Abetone Val di Luce skiing area
A point of reference for all ski lovers
Abetone Cutigliano
Discover
Skiing areas
Via Brennero 502, Abetone
Standing right on the border between Tuscany and Emilia Romagna, the Abetone Val di Luce area has 50 km of downhill slopes and 17 installations including ski lifts, ski tows, cable cars and treadmills.
The Abetone Val di Luce skiing area offers you 50 km of pistes that wind down along diverse slopes. A range of landscapes: 'Monte Gomito' with the 'Zeno' piste, the century-old forests of the 'Regine' and the 'Selletta' pistes, the alpine environment of the 'Val di Luce', the exciting slopes of the 'Pulicchio' with the 'Coppi' and 'Segni' pistes.
The area is served by 17 fast and modern installations with a hourly capacity of 25.000 persons. Artificial snow is programmed to cover 90% of the pistes.
This ski resort is easily reached both from Tuscany and from Emilia Romagna, following Abetone's and the 'Brennero's 'Statale 12' road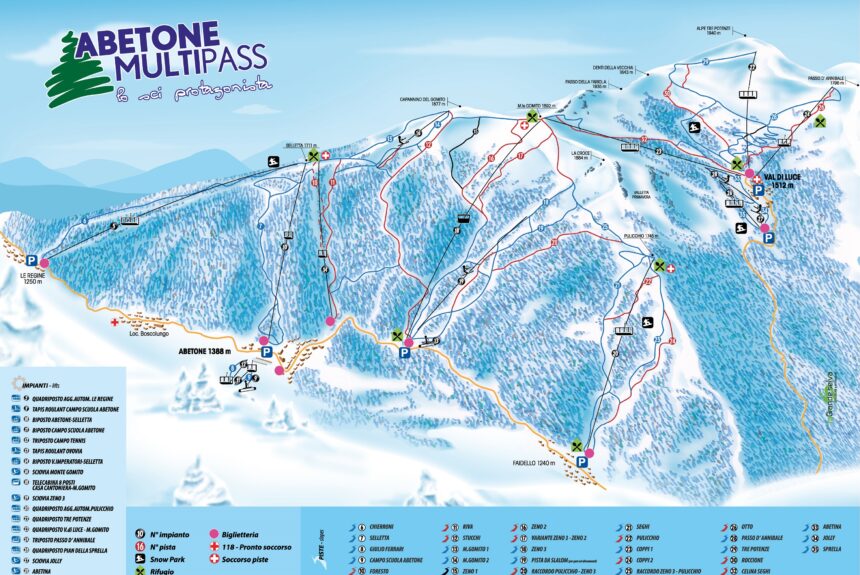 History
The Sci Club Abetone Boscolungo was founded in 1920. At that time, Abetone was one of the very few Italian ski resorts to have ski lifts. It was also the home and birthplace of great champions like Zeno Colò, Celina Seghi and Paride Milianti.
Distanze
51 Km from Pistoia
91 Km from Firenze
108 Km from Bologna
83 Km from Modena
67 Km from Lucca
84 Km from Pisa
Info
Hours
For installations and pistes, please consult the website. Updates are carried out every day by 8.30 a.m. (non-working days) and by 9 a.m. (workdays). The openings and closings that can be seen before those times refer to day-before data.
Entry
For prices visit the website
experience the territory
Discover
Skiing areas in

Abetone Cutigliano