Discover /
Skiing areas
The Doganaccia skiing area
An unbeatable destination for winter sports lovers
Abetone Cutigliano
Discover
Skiing areas
Via dei Cacciatori 6, Loc. Doganaccia Cutigliano
Standing on the Croce Arcana slopes in the Pistoia Mountains, the Doganaccia skiing area has 15 km of downhill slopes, with pistes for both alpine and cross-country skiing.
The Doganaccia area winds through 15 km of downhill slopes. Moreover, it is proud to have the greatest number of floodlit pistes in the whole of the Central Apennine area, with 10 pistes enjoying a very modern system of illumination.
Artificial snow is programmed to cover 90% of all the pistes.
The ski school is reached by a free, 60 metre long treadmill and by a 800 metre long skilift (Ski School) from where you can get to the rest of the area. In fact, it is from here that the Ski School, One, Two, Three and 'Raccordino' pistes set off.
The 'Faggio di Maria' Skilift is meant for – apart from the piste of the same name – the 'Direttissima' piste, the lower part of the 'Chierroni' piste and the 'Panoramica' piste, almost 4 km long.
The area offers slopes which are suitable for alpine skiing, for snowshoes and for cross-country skiing.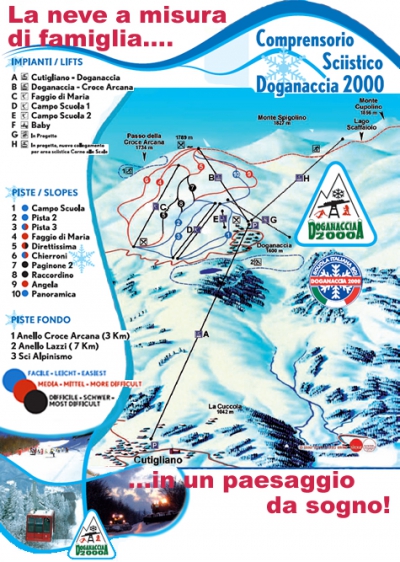 All year round
The theme Park Doganaccia 2000 can offer you, all year round, outdoor activities and every kind of enjoyable pastime. All in the wonderful surroundings of the Pistoia Mountains.
Info
Skiing areas in

Abetone Cutigliano