Ideas /
Spring, Summer
Not-to-be-missed panoramas in Pistoia and its mountains
5 picture-worthy places
Pistoia
Serravalle Pistoiese
Abetone Cutigliano
San Marcello Piteglio
In the city or in the mountains, 5 places to get lost in the beauty of incredible views, able to give, in every period of the year, always different emotions
Natural hills and slopes, ancient medieval towers and bell towers enable you to admire all at once the marvellous panoramas which surround these valleys and towns.
In the city itself or in the Pistoia Mountains, you can admire the area from high up so that you can embrace, at a glance, truly wonderful views, or you can let yourself pause and dwell on unique and particular details.
Look out for large red letters placed in panoramic spots in the Pistoia Mountains, which make up the word Segnavie – Trail signs. This idea covers particularly interesting areas from a naturalistic, historical and cultural point of view: the 'Foresta del Teso' – the 'Teso Forest' – the Upper Valley of the Pescia Stream, the 'Oasi Dynamo' (a WWF reserve), the 'Macchia Antonini' and the rural area of Piteglio-Popiglio.
Montagna Pistoiese. Photo credit: Segnavie Montagna Pistoiese Facebook
This ancient, square-shaped, medieval tower, forty metres high, overlooks the whole valley. From its peak to one side, you can see the plains of Pistoia, Prato, and Florence, and from the other, the Valdinievole, the Fucecchio Marshes and the Pisa Mountains. Try and go there at around sunset where you can enjoy breath-taking views.
3. The panoramic terrace of the Rifugio del Montanaro
At 'Poggio dei Malandrini', in the Teso Forest, stands the Rifugio del Montanaro – the Montanaro Lodge. Looked after by the Maresca CAI – the Maresca Italian Alpine Club – it is open all year on non-working days or holidays. Its panoramic terrace looking over the Pistoia Mountains is the perfect place for those hoping to rest and relax after a long walk in the woods, but it is also ideal for those in search of splendid panoramic views. If you want to know whether it is covered by snow, or if the trees are leafy or are in flower, just look at the Rifugio's webcam.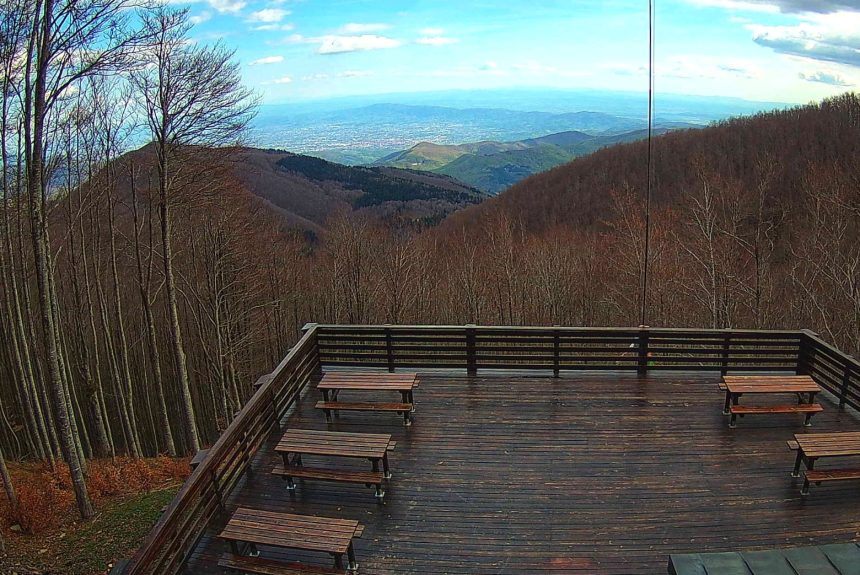 Standing out on the Cathedral Square is Saint Zeno Cathedral's Bell Tower. As it stands sixty-six metres high – 85 metres if you measure it up to the cross at the top – it is one of the city's most amazing observation platforms, with its 360° all-round panoramic view. If you climb its two hundred steps, you will be able to admire a wonderful panoramic sight which you can take some wonderful photos of.
5. Croce Arcana, Abetone Cutigliano
The Croce Arcana Pass is a crossing in the Tuscan-Emilia Apennines, 1669 metres high, standing on the border between the Provinces of Pistoia and Modena. The view from here is breath-taking and stretches from the 'Valle della Lima' to the highest pinnacles of this part of the Apennines and, when the sky is clear, you can even see in the distance the summit of the Apuan Alps.
idee-incluso
idee-non-incluso
idee-informazioni
experience the territory
Discover
Live the
recommended experiences