Discover /
Monuments
San Giovanni in corte baptistery
In the Cathedral Square stands one of the city's iconical monuments
Pistoia
Discover
Monuments
Piazza del Duomo
It is one of Pistoia's undisputed symbols as well as being one of the monuments which render the Cathedral Square truly unique. It is also considered to be one of the finest examples of Tuscan Gothic art.
This wonderful Gothic building, built in the middle of the 14th century over the remains of an even older church, stands in the Duomo Square, in front of the Cathedral of Saint Zeno.
Its name was derived from the ancient church of Santa Maria in Corte, over which it was built, dating back to the Lombardic era. Its reconstruction, with its octagonal base, into the building you can see today, began in 1301.
It is considered to be one of the finest examples of Pistoia and Tuscan Gothic art. Its facade is entirely covered in white and green marble coming from Siena, Prato and Carrara and it is about forty metres high. Its restoration in 1975 brought to the light the date of 1226 on the Baptismal Font and the name of its sculptor, Lanfranco da Como.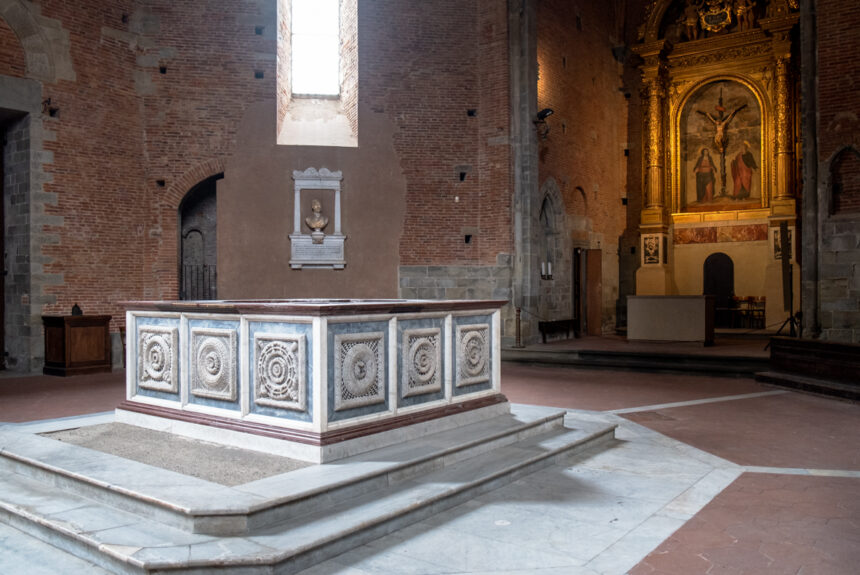 The Baptistery is home to the ticket office for Tesoro di San Jacopo – Treasure of San Jacopo: a visit which takes you along to discover San Jacopo's wonderful Silver Altar, to enjoy the breathtaking view from the top of the bell tower, and to visit the beauty of the Baptistery together with all that the Cathedral of Saint Zeno stands for.
Info 
Il tesoro di San Jacopo
info@medievalitaly.it
+39 334 1689419
Hours
Every day 10am-7pm
Entry
Free entry. Tesoro di San Jacopo's ticket office: Cathedra and silver altar audio guide € 5 full, € 3.50 reduced and groups; bell tower € 10 full, € 5.50 reduced and groups. Combined ticket "Medioevo a Pistoia" + silver altar € 12 full, € 10 reduced.
experience the territory
Discover