Photo Credit: La Cucina Italiana
Ideas /
Autumn, Taste, Winter
Traditions at table: what to eat and try out
Pistoia
Quarrata
San Marcello Piteglio
Enjoy the strong and genuine flavours of local cooking: your palate will be thanking you!
This area's cooking is authentic and genuine, thanks mainly to the use of 'poor' ingredients, typical of a basically peasant culture linked is to the mountains, rich in chestnuts, porcini mushrooms, and blueberries, as well as its excellent beef and mutton products and its honey. Which are the dishes which you absolutely must taste when you come here?
1. I maccheroni sull'anatra – Maccheroni with duck sauce
A unique dish, typical of traditional Pistoia celebrations, and always served on 25th July for the celebration of Pistoia's patron saint, Saint James. The main element of this dish is the Barbary, or Muscovy, duck typical of this area, with which a meat sauce is made and then served with fresh maccaroni, rolled out by hand, as tradition so requires.
2. Il carcerato – The prisoner
A soup prepared with stale bread, veal offal and grated cheese. This dish goes back a long way in the history of Pistoia's cooking and maybe is called 'the prisoner' because it used to be served in the prison of the city, which stood right next to the town's slaughterhouse and consequently, the dish was prepared with its cheap, waste, leftover scraps. It may be an unusual dish, but it is undoubtedly a very unusual and delicious one.
3. Castagnaccio (chestnut cake), necci (a galette made with chestnut flour), fritters and sweet polenta
Chestnut flour is certainly the principal food of the Pistoia Mountains; a highly nourishing food, known for its excellent quality. These cakes all use chestnut flour but in different ways; and necci and sweet polenta can be used for savoury dishes as well, as it is sometimes served with sausages or anchovies. In autumn, village street parties are often arranged where necci, eaten with some excellent ricotta cheese of the Pistoia Apennines, and Castagnaccio, a cake enriched with nuts, raisins and rosemary, are the most appreciated dishes.
Click here to find out the other flavours of the Pistoia Mountains.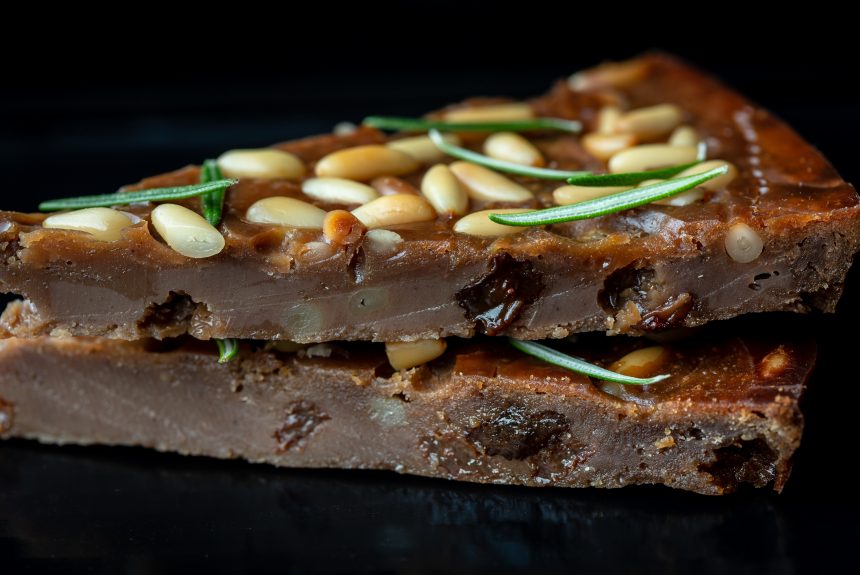 4. Corona di San Bartolomeo – St. Bartholomew's Crown
Every year, on August  24th and 25th, a traditional fair takes place around the Church of San Bartolomeo in Pantano, in Pistoia, and it is a fair full of games and sweets. For this occasion, children dress up with the 'Corona di San Bartolomeo' – St. Bartholomew's Crown – which is a sort of necklace made of round, shortbread pastry biscuits, called 'pippi', spaced out with sweets or chocolates. St. Bartolomew, a much loved Pistoia saint together with St. James, is considered to be the patron saint of children and his fair is, in fact, dedicated to children.
A fun fact: in olden days in Pistoia, when children scraped their knees, often their mothers would call them "sambartolomeini" – "little saint bartolomews" –  gently comparing them to the Saint and his martyrdom.
idee-incluso
idee-non-incluso
idee-informazioni
experience the territory
Discover
Live the
recommended experiences