Photo credit: Maurizio Pini
Discover /
Ways and paths
Via Francesca della Sambuca
From Bologna to the "Little Santiago"
Pistoia
Sambuca Pistoiese
Discover
Ways and paths
Bologna
Pistoia
96,2 km
2870 m
Main attractions: Bologna, Basilica of San Giacomo Maggiore, Sanctuaryof the Madonna di San Luca, Ospitale di San Niccolò, Palazzo De' Rossi, Rupe del Sasso, Pieve di San Lorenzo di Panico, Marzabotto, Rupi di Calvenzano, Vergato, Montovolo, La Rocchetta Mattei, Montecavalloro, Savignano, Mulino di Chicon, Pavana, Sambuca, San Pellegrino al Cassero, Spedaletto, Sanctuary of the Madonna di Valdibrana, Pistoia.
The Via Francesca della Sambuca connects Pistoia and Bologna. These two wonderful cities share a fervent cult of Saint James, patron of all pilgrims, although in their own peculiar ways. In 1144 Bishop Atto of Pistoia was donated a relic of the Apostle by the Bishop of Compostela. From that moment on, the Tuscan town of Pistoia became one of the most important destinations of pilgrimage and became known as "Minor Santiago", the Little Santiago.
The Via Francesca della Sambuca then began to be considered as an alternative pilgrimage route to the Via Francigena. It started in Bologna and, after crossing Pistoia, ended in Fucecchio where it connected with the Via Francigena, hence the nickname "francesca", as it was a part of a network of the francigena routes from France to Rome. This itinerary was the easiest mountain pass west of Bologna and in its descent westwards, shortly past Lucca it also provided access to the Tyrrhenian sea and on to the coveted Santiago de Compostela.
As well as the luxuriant and wild landscapes of the Apennines, water is another recurring element along the path, as the route follows the flow of the Apennine rivers Reno and Limentradi Sambuca. The ancient origins of this path are reflected in the stone-paved roads, the evocative rural churches and the ruins of ancient hospitals for pilgrims along the itinerary, all testifying to a path trodden since Etruscan times.
The succession of the different peoples who walked this path throughout the centuries shaped the culture of the region and provided this land with magnificent buildings, historic towns full of art and signs of the cult of Saint James, a cult still deeply felt and able to bring the peoples of Europe closer to each other.
For technical details about the difficulty of each stage, advice on backpack, information on public transport, you should contact the reference association.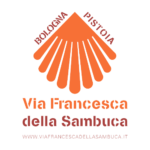 Stages
Bologna - Marzabotto (29 km)
Marzabotto - Riola (23,2 km)
Riola - Sambuca (18,3 km)
Sambuca - Pistoia (25,7 km)
* The route can also be taken in 5 or more stages, deviating to include Porretta Terme.
Means of transport
on foot
Route
Notes
The route is easily accessible by public transport. The Emilian stretch is reachable by train. Bus service is available for the Tuscan stretch from Pavana to Pistoia.
Contacts
experience the territory
Discover
Ways and paths in

Pistoia

Sambuca Pistoiese