Discover /
Ways and paths
Via Romea Strata
An international route across Europe
Pistoia
San Marcello Piteglio
Discover
Ways and paths
Capanno Tassoni
Fucecchio
102,5 km (Tuscan stretch)
2328 m (Tuscan stretch)
Main attractions: Croce Arcana Pass, Cutigliano, Ecomuseum of the Montagna Pistoiese, Suspension bridge of San Marcello Pistoiese, Montagna Pistoiese Astronomical Observatory, Pistoia, Montalbano, Pieve di San Baronto, Vinci, Cerreto Guidi, Fucecchio, San Miniato.
Together with other international itineraries, the Via Romea Strata is one of those historic routes that contributed to lay the foundations of European culture through a continuous exchange of goods and traditions.
The Via Romea Strata has always been an important European route, a network of itineraries towards Rome branching off from East-Central Europe. The recent enhancements have made the route walkable, from the Baltic Sea where it starts, then through Estonia, Latvia, Lithuania, Poland, Czech Republic and Austria, until it crosses the Alps. The path enters Italy in Tarvisio, in the North-East of the Country, historically an important hub for trade and travel, and a junction for different routes all having Rome as their common destination. The itinerary from Tarvisio to the Italian capital gives many opportunities to get acquainted and appreciate outstanding historical, artistic and religious features, as well as fine dining and drinking destinations of a part of the Italian peninsula.
In Tuscany the Via Romea Strata crosses the Apenninesat the Croce Arcana Pass, traversing the Montagna Pistoiese, its historic villages and unspoilt valleys until it reaches Pistoia, the only city outside of Spain that houses a relic of the Apostle James. The Via continues along the hills of the Montalbano mountain chain, then crosses Vinci -the village where the universal genius Leonardo was born, it continues past Cerreto Guidi and arrives at Fucecchio where it connects with the Via Francigena.
The Via Romea Strata, its stories and international scope add a cosmopolitan feel to Tuscany in general, and to Pistoia in particular, renewing the tradition of the city as a crossroads for ancient and modern pilgrims.
For technical details about the difficulty of each stage, advice on backpack, information on public transport, you should contact the reference association.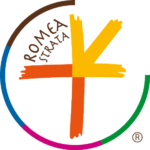 Ways and paths in

Pistoia

San Marcello Piteglio